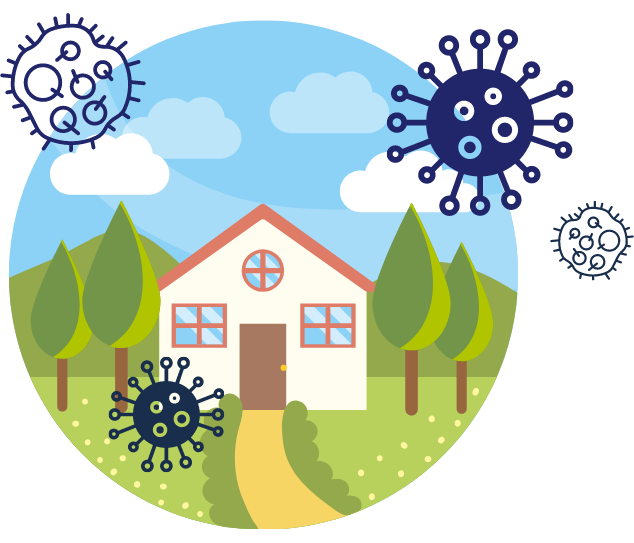 Indoor Air Quality Testing &
Mold Inspections
Aire Diagnostics provides testing for indoor pollutants such as mold, bacteria, toxins, and allergens at both residential and commercial properties in Panama City Beach, FL Alabama, and Georgia. We are a licensed Florida Mold Assessor, providing you with accurate inspections, detailed reports, and clear lab results. We pride ourselves on giving you not only the test results but a full explanation of the laboratory findings.
How Clean Is the Air Your Breathe?
Mold, gases, and allergens such as dust mites can affect indoor air quality and yet you may not even know they are there. Mold spores can hide underneath flooring and dust mites are microscopic. Toxic gases are invisible to the naked eye and there is so much more to the air we breathe than what we can detect with our 5 senses. 
Being exposed to elevated levels of mold or other toxins for a prolonged period can lead to health problems, especially among the elderly and children, or those who have compromised immune systems and a higher sensitivity to mold and other air pollutants. To find out more about which test is right for you, contact us today!
Book your appointment today
Our Mold Testing Process
Professionals are able to determine the type of mold in your home, the degree of the infestation, and can help identify the source or cause of the problem after analyzing your samples and performing a thorough investigation of the property.

Since there is no one-size-fits-all approach to testing mold, it's helpful to have a professional figure out what types of tests make sense for your particular situation. The steps we take can be explained more in the next section.
WANT TO LEARN MORE ABOUT RESIDENTIAL AND COMMERCIAL MOLD INSPECTIONS?
If you're in the Panama City Beach, Florida area and suspect that you have a mold infestation or toxins affecting your indoor air quality, we can help. Contact us today to learn more about residential and commercial mold inspections. We will go the extra mile to help clients understand and learn about the importance of indoor air quality and one's health.